Former first lady known for her love of shoes also had collection of jewellery that included single diamond worth $5m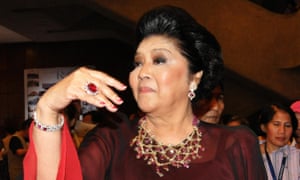 The jewellery was recovered after the country's dictator, Ferdinand Marcos, and his family fled to Hawaii in 1986 following a popular revolt that ended his two decades in power. The pieces include a barrel-shaped diamond worth at least $5m (£3.3m) and a Cartier diamond tiara believed to be worth more than $100,000.
The Marcos family allegedly amassed billions of dollars through corruption, and the dictator's widow, now 86 and a member of Congress, became known for excesses, symbolised by her huge shoe collection and staggering jewellery.
The jewellery, comprising three sets seized in various locations, was valued at $5m to $7m when it was last appraised in 1988 and 1991. But it is likely to have significantly risen in value, Andrew de Castro, of the presidential commission tasked to recover the wealth, said on Tuesday.
The collection was being appraised by the Christie's and Sotheby's auction houses this week before the government decided whether to auction it, he said, calling the collection a physical manifestation of excesses during the Marcos regime while many Filipinos suffered in poverty.
Putting the jewellery in a museum or an exhibit has been suggested. The jewels have been stored in a vault at the Philippine central bank for nearly 30 years.
"If I didn't know where the collection came from, I would probably say it could have come from a royal person," said David Warren, who headed a Christie's auction house team that inspected the jewellery. He said the extensive collection included very rare and exceptional pieces.
A 25-carat Indian pink diamond probably cut in the 18th century and worth at least $5m was discovered to be part of the collection. It was previously listed as crystal and may have not been shown to appraisers, Warren said. Marcos's briolette-cut or barrel-shaped pink diamond is from India's famous Golconda region, which produced rare finds such as the Hope diamond and a 500-carat diamond that is part of the British crown jewels.
Pink diamonds are very rare. Warren said a 16-carat vivid pink diamond was sold by Christie's this month in Geneva for $28.5m. The provenance of the jewellery could radically increase prices should the pieces be auctioned, Warren said.